The color of your suit can say a lot about you. Typically the blue/grey/black suits can be worn as business attire. My first suit that I bought was a navy blue suit. I thought I was pretty snazzy looking in it, and it worked for nearly every situation, especially because I was young and wasn't even expected to wear a suit in the first place. Some people have said that you should only wear black suits once a week or only when you're planning on going to a funeral or something solemn later. I think this is bullshit. I like black suits and I'll wear them 2-3 times a week if I want to. I'll admit that being seen in one everyday can get old, but there's no reason you can't make wearing a black suit an enjoyable experience. Hell, the main reason I wear suits is for fun, so I'm not going to let someone ruin my fun over that. That being said, grey suits are probably more "in" right now during the workday. It looks professional and there's just something appealing about that charcoal grey to me. Reagan brought in the era of brown suits in his presidency. He improved upon the Commander-in-chief of the USA's wardrobe more than any president before him, other than maybe JFK. They aren't exactly for a funeral or for court. but being seen on the street or at a bar, you most likely won't get criticized for wearing one. I'm not a fan of the brown suits myself, but there's not necessarily a reason you can't pull one off. I stay away from any odd colored suits. I think that nearly anyone who wears one either isn't knowledgeable about suits or doesn't want/know how to be taken seriously. If it's as a joke or something of the like then I can appreciate it, but barring that, it's extremely unprofessional.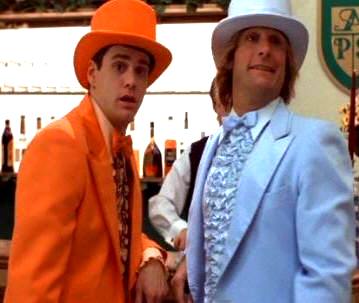 These two are the only ones that will ever pull this look off.
For the love of god, don't imitate them!